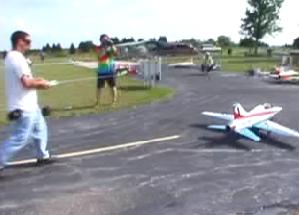 After finding the first video of a model jet propelled aircraft, I had to investigate further. There is quite a number of communities around the world that get into this hobby. The next four pictures are links to a 6 1/2 min video clip I found on Google Video showing what looks like an airfield with a number of these jet propelled model aircraft.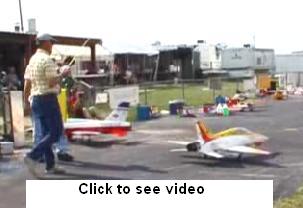 The planes have a push button start engine and run on kerosene like the real thing. The US FAA won't allow them to fly faster than 377km/h (234mph) but it's believed they will do considerably quicker.
A rough estimate is US$12,000 for an flying aircraft. Not bad for something that looks, smells and sounds like the real thing.
Landing is not all that easy. The nature of these jet engines is even at idle, they generate considerable thrust. So slowing to a good landing speed requires a level of skill. Probably a good idea to buy a cheap prop plane first to get used to it. At least crashing that won't cost you a cool 12G's.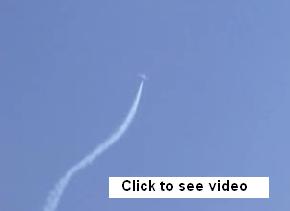 Not all things go as planned though as seen in the video. Just click any of the four pictures above to link directly to the video on Google Video.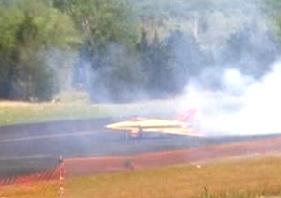 If your interested, here are a few links of interest on these types of engines
Jet Engines – Glue-it.com
http://www.glue-it.com/aircraft/general-information/glossary/j/jet_engines.htm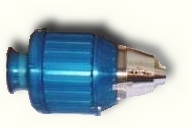 Small extract from page:
Although practical model jet engines have been around since the early 1980's it has only been in the past few years that home construction has become viable. Careful design has made simple home construction possible using basic tools and a small centre lathe.
Jet Engines – Cermark


http://www.cermark.com/Merchant2/merchant.mvc?Screen=PROD&Store_Code=C&Product_Code=JetCat-P160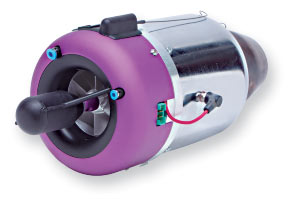 Small extract from page:
Aprox Price: AU$5,200 (US$3,995) (as at 10Nov06)
Weight: 1.52KG (3.34 LB)
Diameter: 11.2 cm (4.4 inches)
RPM Range: 32,000 – 128,000 RPM
Exhaust gas temp.: 650°C-770°C
Fuel consumption: 454 grams (16 oz) per min at full power
Fuel: Jet A1, 1-K kerosene